Cleaning & Checkup
Invest in Healthy Teeth and Gums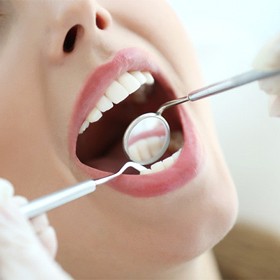 You've probably heard you need to visit your dentist in Oklahoma City at least twice a year for preventive care. Despite the advice of the American Dental Association, one-third of adults don't schedule their routine appointments. Often, it's thought you don't need to see a dentist until after a problem develops, but this couldn't be further from the truth. In fact, your semi-annual appointments can actually prevent you from needing a costly or invasive treatment down the road. Dr. Don Swearingen provides the cleanings and checkups you need to keep your smile healthy.
Importance of Routine Care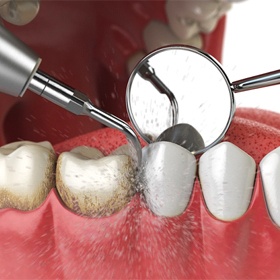 Brushing and flossing are your first line of defense against preventable issues, but they are not enough. You should see your dentist at least twice a year for a cleaning and checkup. We remove harmful accumulations that can lead to common oral health problems, like tooth decay and gum disease. We also monitor your teeth and gums to detect areas of concern while they are still small.
By keeping your smile healthy, we not only help to ensure it lasts for a lifetime, but it also reduces your overall dental expenses. In fact, research shows every $1 you spend on preventive dentistry can save you $8 to $50 on restorative or emergency care. Your routine appointments are actually an investment in a lasting, healthy smile.
Professional Dental Cleanings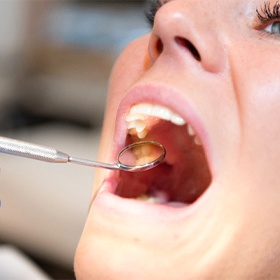 Although your toothbrush and floss are effective for removing harmful food particles, bacteria, and plaque, they cannot reach everywhere in your mouth. Even with the best brushing and flossing techniques, there are areas where tartar will form, which increases your risk of gum disease.
Your dental hygienist carefully removes any buildup using special dental tools and polishes your teeth. We take the time to discuss your current oral hygiene habits and make recommendations for improvement to keep your smile healthy in between appointments.
Comprehensive Checkups
Even if you don't currently have any oral health concerns, it is important to let Dr. Swearingen evaluate your teeth and gums every 6 months. Besides a visual examination, he also reviews digital X-rays of your mouth. This allows him to view your oral health in its entirety to look for any issues that may be brewing beneath the surface, like an infection. In addition to checking the health of your teeth and gums, he also looks for other potential concerns, like the early signs of oral cancer.
After your comprehensive examination, he takes the time to explain his findings and answer any questions you have about your customized treatment plan. He'll help you make the best choices for your smile to reach your oral health goals.
Invest in a Healthy Smile
With the right dental hygiene habits at home and regular care from your dentist, it's easy to maintain a healthy smile. If you have dental insurance, you can enjoy these visits for little to no out-of-pocket expense. We work with you to provide the preventive services you need while staying within your budget.
If it has been longer than 6 months since you're last cleaning and checkup, don't wait. Contact our office today to schedule an appointment.