Dental Crowns
The Building Blocks of a New Smile
Dental crowns are one of the most widely used treatments in restorative dentistry because of their versatility. Besides restoring the health and function of a tooth, they now also hold a commonplace in cosmetic dentistry. Dr. Swearingen uses porcelain dental crowns in Oklahoma City to also improve the appearance of your tooth. Despite not being made of metal, rest assured, they offer the same quality of protection. Dr. Swearingen will restore your smile to its previous health using a customized treatment plan.
Do I Need a Dental Crown?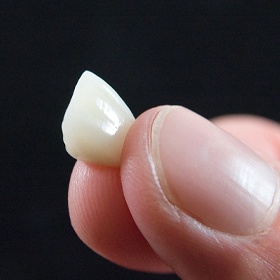 If you have a damaged tooth in Oklahoma City, a dental crown covers its entire visible surface down to the gum line. As a result, your tooth will need to be permanently reshaped to allow the crown to fit over it and cemented in place. Dr. Swearingen will only recommend a crown when there aren't any other viable treatments. A few of the reasons you may need a crown can include:
To treat a large area of decay.
Repair a broken or fractured tooth.
Cover dark tooth discoloration.
Protect a weakened tooth from breaking.
After a root canal.
Along with a fixed bride.
With a dental implant.
What Types of Crowns are Available?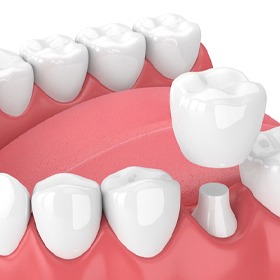 There are basically three types of dental crowns: Gold crowns, porcelain crowns, and porcelain fused to metal crowns.
Gold Crowns: Where appearance isn't a concern, such as on your back teeth, gold could be the best choice. Gold is very malleable; therefore, we can get a more precise fit than with any other type of crown. Gold also eliminates the slight possibility of chipping, giving them very practical longevity.
All-Porcelain Crowns: These are the most beautiful type of crowns. Nothing beats porcelain for mimicking the appearance of your own natural teeth. The porcelain is translucent and reflects light much like real tooth enamel does, so no one will be able to tell the difference between the crown and your other teeth. While in the past, we couldn't use all-porcelain (or rather all-ceramic) crowns on the back teeth, there are some newer ceramics that are strong enough to withstand the pressure of chewing.
Porcelain Fused to Metal Crowns: These are also made of porcelain, but they have a metal base to give them additional strength, which allows them to work even on the back teeth. Because of the metal substructure, they need an opaque layer under the porcelain to hide the metal. White opaquers are used, which gives them a nearly natural appearance.
What Can I Expect with the Porcelain Crown Procedure?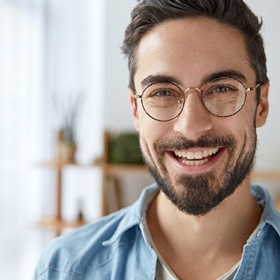 Having a porcelain crown placed generally requires two appointments. Any areas of damage or decay is removed before your tooth is reshaped to make room for the crown. Next, an impression of your tooth is made to make sure your crown is a precise fit. The dental lab will ensure it meets your exact specifications, which can take a couple of weeks. While you are waiting for your permanent crown, you will be given a temporary crown to protect the tooth. Once your new crown is ready, it will be permanently placed at the second appointment.
How Long Will My Crown Last?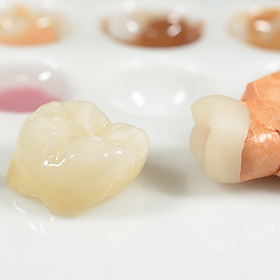 Your crown can last for a decade or longer if you take the time to care for it. To ensure its longevity, it's best to:
Brush your teeth twice a day and floss nightly.
Do not use your teeth as tools.
Don't chew on inedible objects.
Don't chew overly hard or sticky foods with it.
If you're in need of a porcelain crown, call our office to set an appointment, or click here to request one online.