Our Services in Oklahoma City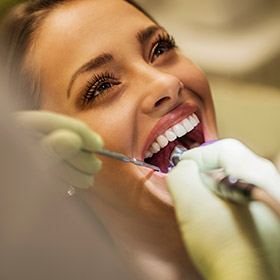 Every single smile we serve is unique and has different needs, and in order to properly meet them, we have to offer a wide variety of services you typically won't find at your average Oklahoma City dental practice. Thankfully, Dr. Don Swearingen and his team aren't your average dental practice! We're proud to provide truly comprehensive dentistry that can take care of our patients and their entire families, so they don't have to run around town with referrals. Whether it's time for your child's checkup and cleaning, you need a few teeth repaired, or even if your parents are interested in dental implants, you can trust that we'll always have what you need. When you come to see us, two things are guaranteed: you'll have a laugh, and you'll leave with a beautiful, healthy smile.
To get a better idea of everything we have to offer, please take a moment to browse through the links below. Afterward, if you have any questions, or if you would like to schedule an appointment, simply contact us today.