Invisalign® – Oklahoma City
Your Clear Path to Straight Teeth
Straightening your teeth isn't just for children; in fact, about a quarter of orthodontic patients in North America are adults! However, odds are you don't want to have to wear wires and brackets at the office for the next two or three years. Fortunately, Dr. Swearingen can offer older patients a clear alternative in the form of Invisalign®. Call our office today to learn more about Invisalign® and how it can help improve your smile.
How Invisalign® Works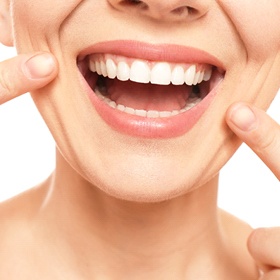 First, we need to perform a comprehensive exam so that we can confirm the general health of your teeth (including the roots) and identify potential issues, such as crowding. After that, we can create a mold of your mouth and send it to an Invisalign® lab, where they'll use special sophisticated software to design and manufacture your clear aligners. Your first aligner won't quite fit, but this is intentional; it will gently guide your teeth into the proper alignment and will fit naturally after a few days. You'll switch to a new aligner every two weeks. By the end of the process you'll have the straight smile of your dreams – without anyone else realizing you were receiving treatment!
Benefits of Invisalign®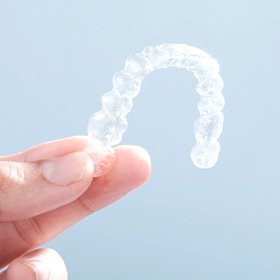 The aligners are see-through and are practically invisible from a normal conversational distance; no one will be able to tell you're wearing them.
You can eat whatever you want simply by removing the aligners before meals.
You'll be able to brush and floss normally, making oral hygiene a snap.
Invisalign® treatment usually takes about six months to a year – about half the time of traditional braces that might be worn for two or three years.
There are no brackets and wires to poke and irritate the inside of your mouth.
Who Does Invisalign® Help?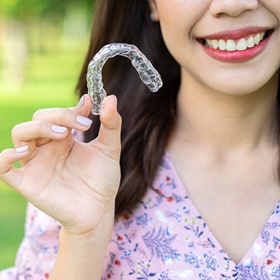 Invisalign® relies heavily on patient compliance (meaning you need to remember to wear your aligners for at least 20 to 22 hours a day without removing them too often), which is why it's normally suggested for older teens and adults. Here are some common orthodontic issues that Invisalign® can help with:
Crowding
Are your teeth too close together? Is it difficult to brush them properly? Invisalign® can create the space your pearly whites need to line up correctly.
Spaces
Is there a gap between some of your teeth that makes it embarrassing to smile? Food particles can get trapped in this space and cause bad breath, but Invisalign® moves your teeth into the correct alignment.
Bite Alignment
Do your upper and lower teeth not line up correctly? Invisalign® can help correct various bite problems to ensure that you aren't putting too much pressure on your jaw joint.
Making Invisalign® Affordable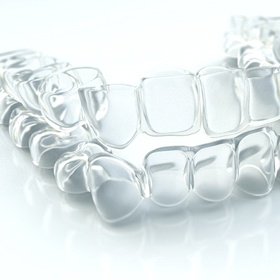 The cost of Invisalign® will be different for every patient depending on the number of aligners needed and the length of treatment, but one thing you can be sure of is that we can help you figure out a way to make your treatment affordable. Most insurance plans are willing to pay for Invisalign® as an orthodontic treatment; we'll gladly process and file your claim for you so that you can make the most out of this coverage. If you don't have insurance, we can help you qualify for a low-to-no interest financing plan with CareCredit.