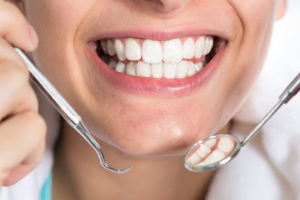 I don't understand why my dentist is willing to give me a white filling but not my son. He said children can't have them, but I know my niece gets them. They live in a different state so I can't go to their dentist. What's up? I don't mind going to a different dentist for my son. He's only seen him once because he doesn't see children until they're 10.
Stacey L.
Dear Stacey,
The first thing I noticed about your question was the age in which your dentist is willing to see children. That was a huge clue that he's not comfortable treating children. Many general dentists love treating children and all of them have done a pediatric rotation. But, if you want to know how comfortable they are with children, they'll first ask to treat them around 2 or 3 years old.
That's likely the biggest hindrance for your dentist giving your sweet boy a white filling. Composite fillings (which is their clinical name) need to stay completely dry during the bonding process. Some dentists have trouble working with children. You'd be surprised how intuitive children are. They may be feeding off his emotions and getting nervous themselves, which makes them more wiggly than usual making it difficult to stay dry.
Alternately, some children are just more wiggly than others. There's nothing wrong with that. They're children. They're constantly observing, learning, growing. That would make just about anyone have trouble staying still.
Getting Your Son a White Filling
You have a couple of options. First, is to find a pediatric dentist who does white fillings. Many of them do these days. It can be a pediatric specialist or a general dentist who treats young children. There are mercury-free dentists who'd be happy to treat your child. Any mercury-free dentist will only place white fillings. The reason for that is the high mercury content in silver (amalgam) fillings.
If your son is a wiggly one, then you may consider dental sedation. Even sedation as mild as nitrous oxide (known commonly as laughing gas) usually puts children to sleep and allows the dentist to work freely on your son's fillings.
Nitrous is completely safe. If you're a fan of "Call the Midwife" you may remember the episode where they first started using it on women in labor. They were quite "happy" with the results. It's safe for use in children. And, when the procedure is done, the turn down the nitrous and increase the oxygen and your child is awake and lucid before you even leave the treatment room.
This blog is brought to you by Dr. Don Swearingen.