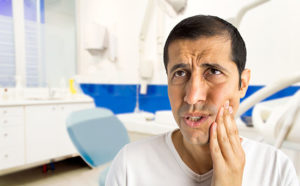 I had to go to an emergency dentist because of a pimple on my gums that was causing me massive pain. The emergency dentist did a root canal treatment and gave me a crown. I was still in quite a bit of pain. Now, a few weeks later, I realize the tooth next to it is gray. He killed my tooth. What do I do? Should he treat it for free?
Louis.
Dear Louis,
I think you're making a big assumption that your emergency dentist is the cause of your tooth turning gray. While it's possible he caused trauma to the tooth when he was working on your other one, it's also possible there was already damage to that tooth and it was just missed in the x-ray. The gray could just be showing up now.
If you're concerned that it was the dentist, which you obviously are, I suggest you can take the x-rays to another dentist for a second opinion. He can tell you if there was something obvious that was missed.
Preventing another dental emergency
However, now you have a second tooth to deal with. One that also needs a root canal treatment. If you don't deal with it soon you will certainly end up with a second dental emergency. You don't have to see the same dentist, obviously. It might be a good idea to see someone else, especially given that you already have some trust issues going on with this dentist.
I am curious though why you're seeing emergency dentists instead of a family dentist. If it's a matter of dental anxiety and you only go when absolutely necessary, there are dentists who cater to patients with dental fear. They can give you a pleasant, relaxing visit. It's a least worth looking into.
It's always better when you have a trusted family dentist whom you depend on to give you the best advice and keep your mouth in top shape.
This blog is brought to you by Dr. Don Swearingen.