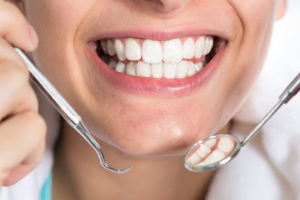 Looking for a smile makeover in Oklahoma City? Your options include veneers, ceramic crowns, cosmetic bonding, and prescription whitening. Each can restore the natural beauty that time or circumstances have taken away. There's no better time to think about this topic than right now, when 2019 is just getting underway.
Dental Veneers: A Complete Smile Makeover in Only Two Visits
Even the healthiest teeth can take a beating over the years. Chips, small cracks, enamel erosion, uneven spacing, and staining are five of the most common causes for this problem.
A great way to make these problems vanish from sight is with dental veneers. These are micro-thin layers of porcelain that fit directly over your natural teeth, giving them a brilliant, flawless appearance that will last for years.
Receiving dental veneers typically takes two separate visits to your cosmetic dentist in Oklahoma City. During the first appointment, he or she will apply a gentle etching solution to the front of your teeth and perform a series of ultra-precise measurements that will be used to craft the actual restoration.
During the second appointment, your dentist will place the veneers, check everything to ensure your comfort and satisfaction, and apply a special medical-grade bonding agent to complete the procedure. It's as simple as that.
Porcelain Crowns: Metal-Free Restoration
Crowns offer both cosmetic and restorative benefits. But traditional crowns are made from metal, which can mar your smile. That's why we're excited to tell our patients about new porcelain crowns, which not only restore lost functionality but look exactly like healthy natural teeth. In fact, many patients have trouble telling where their teeth end and the restoration begins. Ask your dentist about this option during your upcoming appointment.
Cosmetic Bonding: Because the Little Things Count
Sometimes it's the little things that make all the difference. Take your smile for example. Small imperfections like a minor chip or a lack of proportion can blemish an otherwise flawless look.
Fortunately, cosmetic bonding offers an easy way to correct these problems. Your dentist will apply small amounts of dental resin to those problem areas, creating a more consistent and symmetrical look. The improvement to your appearance and your self-confidence can be nothing short of amazing.
Teeth Whitening: Just the Basics
Even the healthiest teeth can lose their gleam over the years. One way to address this problem is through prescription teeth whitening. Here's how it works:
A trained dental professional will apply a gentle yet powerful whitening agent to your teeth. It breaks up stains and discolorations at the molecular level, giving you better results than you can obtain from non-prescription products.
After a few minutes, the hygienist will check your teeth and reapply the solution as needed. Most patients are able to attain their cosmetic goals within 1-2 treatments.
Many dentists also offer take-home prescription-strength whitening formulas that you can use at your own convenience. This is a great way to get professional results at a time that fits your schedule.
A new smile will do more than improve your appearance. It can also boost your self-confidence, improve your personal and professional prospects, and make those around you happier. Those are a lot of benefits from such a simple, easy process. There's no better way to face 2019 with a smile.
About the Author
Oklahoma City native Dr. Don Swearingen earned his DDS degree from the University of Oklahoma College of Dentistry. He has been practicing dentistry for over 20 years and is a proud member of the American Dental Association (ADA). You can reach his office online or by calling (405) 751-8092.