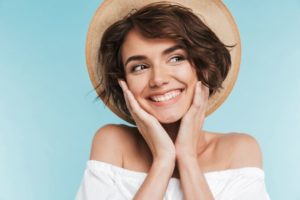 One question people ask about porcelain veneers in Oklahoma City is whether the smile restoration will stain. The answer is "no." That's because, unlike natural teeth, porcelain veneers have no pores. This doesn't mean that you can neglect regular care, however. It still important to follow your dentist's recommendations for taking care of your new veneers.
What Makes Veneers Different from Natural Teeth
If you could look at your natural teeth under a microscope, you would see thousands of tiny pores connecting to the nerves and tissue inside each tooth. It's because of these pores that you can sense when a food or beverage is hot or cold. They are a vital part of your body's natural systems.
Unfortunately, these same pores are what make your teeth vulnerable to staining. Small bits of color, called pigments, can enter the interior of the tooth through these tiny openings, becoming lodged in your teeth.
Sometimes prescription teeth whitening from your dentist can eliminate these stains. Other times, the discolorations are too entrenched to remove. When this happens, your dentist may recommend porcelain veneers instead. Veneers fit directly over the front of your teeth, masking aesthetic concerns such as stains, discolorations, unevenness, and gaps. When properly cared for, the restoration can look just as beautiful years later as it does the day it's first placed.
Caring for Your New Veneers
While veneers cannot stain in the same way as natural teeth, this doesn't mean they're indestructible. On the contrary, veneers require reasonable care in order to look their best over the long term. This includes following these common-sense precautions:
Use your teeth only for chewing food: an easy way to damage your teeth is to use them to open bottle caps, crack nuts, chew ice, etc. These same bad habits can crack or chip your new veneers, requiring a trip to your cosmetic dentist in Oklahoma City to repair.
Use non-abrasive toothpaste: ask your dentist to recommend a brand. Many over-the-counter toothpastes contain abrasives that can scratch or dull the restoration. You should also use a soft bristle toothbrush.
Consume coffee, tea, and red wine only in moderation: overindulging in any strongly colored beverage can stain your natural teeth, which are still partially visible even with veneers.
Take care of your natural teeth: veneers are not a replacement for the teeth you were born with. Rather, they're a cosmetic enhancement for your smile. You still need to follow good self-care tips to maintain your oral health. This includes brushing, flossing, and seeing your dentist as recommended.
Avoid tobacco and vaping devices: these products contain toxic corrosives that can harm the dental bonding agent holding the veneers to your natural teeth. Not only that, they can also have devastating consequences for your natural teeth themselves. Ask your dentist about new medications that can help you to kick the habit for good.
Porcelain veneers are a great way to restore a smile that has seen its better days. Talk to your dentist about them during your next appointment. You'll soon be on your way to a brighter, happier tomorrow.
About the Author
Dr. Don Swearingen is a skilled cosmetic dentist with many years of experience placing porcelain veneers. He's a proud member of the American Dental Association (ADA) and the American Academy of Cosmetic Dentistry. You can reach his office online or by calling (405) 751-8092.