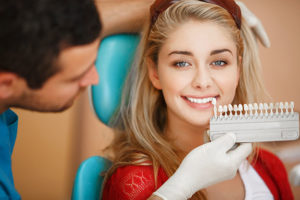 My husband's teeth have always been an ugly yellow, bordering on brown. I thought it was because he didn't take care of his teeth, but now that my son's adult teeth are coming in they have the same look. I monitor his brushing. He does it regularly and correctly. I don't want my son growing up with my husband's smile. Can a pediatric dentist whiten his teeth?
Lara
Dear Lara,
The first thing would be to determine why your son's teeth are discolored. There are lots of reasons for this and they have different solutions. If you're monitoring his brushing and it's more than adequate, then his source of staining is either internal or external.
External stains are much easier to deal with. They can be completely whitened, but you'll want to find the source of the staining. If your son drinks a lot of iced tea and red juices they can definitely stain his teeth. Coffee can too, but if your son's drinking that you've got bigger problems than teeth whitening. There are foods that can do the same.
Internal stains are harder to deal with. Medications taken when their teeth are forming, like tetracycline, can cause internal stains. These are almost murder to get out, but there have been some whitening brands that have shown some effectiveness.
The key is communication with your pediatric dentist. What you don't want is for your son to feel self-conscious about his smile. Especially, if it's something he can't do anything about until he's much older.
If it turns out he has a genetic condition that is causing the discoloration, there's a solution but it will have to be performed when he's older. That's why it's important you build confidence in him now. Most children don't notice tooth color negatively anyway. It's all dentist's can do to get half of them to brush their teeth once a day, let alone twice.
But, when he's older and his jaw has stopped growing, porcelain veneers can give him a total smile makeover. These can change everything about his teeth. Not just the color, but the shape and size too.
This blog is brought to you by Dr. Don Swearingen.